You can buy a precious gift in exchange for a lot of bucks, but the love and special essence that a handmade pencil sketch gift carries can never be compared with any other presents. The effort and passion it takes to make a handmade gift surpasses every barrier and melts the heart of your affectionate ones.
There are more than hundreds of ideas for prepping up a handmade gift, but the handmade sketches hold a special corner in everyone's mind. Everybody wants to give something which will create an unforgettable impression on the beloved's mind. Who would not want to get pampered with a token of love specially made for them? And that's exactly why pencil sketch gift are so much in trend because of its uniqueness and creativity.
Why are Handmade Sketch Gifts So Unique?
Isn't it going to look amazing when your friends, family, children, or partner unfolds the wrap to discover that it's their sketch or portrait, decorated with a beautiful frame? Just think about the happy face they are going to have, and who knows, they might even have tears of happiness!
Personalized handmade sketch gifts are made with utmost care and affection by the skillful artisans who love to give their sketches a new life through their hands. And that is why we, the team of Artfina, use high-quality papers, extra dark and multiple shades of pencils and play with colors on the paper to bring out a beautiful result, which is worth treasuring for the whole life. Especially when they are framed with creative frame designs and placed at a beautiful corner of the house, it is always going to make your loved one remember you at the very sight of the gift.
So, Artfina offers free shipping all over India with COD options to send love to your near and dear ones' doorstep at ease.
Top 4 Handmade Drawing Pencil Sketch Gifts to Make Your Beloved Filled with Love
ArtFina comes with an exotic range of art and craft gifts that you can choose if you are thinking of giving someone a drawing as a gift. So, here are the 4-kinds of handmade sketches that we bring to you to make the special occasion of your loved one more memorable.
---

Let your beloved enjoy the beauty and loved feelings of a 100% handmade gift. Mini Sketch is one of the best items of our collection that you can choose. If you are longing for something unique to gift this time, then check out the mini custom sketches offered by us. Whether it is an anniversary, birthday, any special event or festival, our handmade custom sketches can steal the show.
The Mini Sketches are available in two variants – with frame and without a frame. These pencil sketch gift made on A6 sized papers are framed beautifully and delivered at your doorstep with all care and love. So, to avail of our services, all that you need to do is send us your photo, and our artists will present the best to you.
The best part of our Mini Sketches is that you cannot find this size of sketch anywhere else. Also, these are the most pocket-friendly gift options as they cost not more than Rs. 399-500. Moreover, we offer you the opportunity to add custom letters along with your gift, which will be created with a very personal touch of you. This is the uniqueness of our Mini Sketches.
---

We, the team of Artfina, value the feelings that you want to attach to your unique gifts. That's why we offer you the Rapid Sketch range. It includes a quick and customized pencil sketch personalized gift art using graphite pencils and made with basic detailing on A4, and A5 sized papers. Our artists use quick and fine strokes of the graphite pencil to capture the beautiful texture of the close-up face.
The Rapid Sketches are unique because of its artistry and the magic created with a few lines. We use all our professional techniques to present a good-quality sketch with proper decoration within 2-3 days through our free shipping feature all over India. Just place your order with the photo and get the artwork within an affordable price range of Rs. 500-1099. We also provide the soft copy along with our Rapid Sketch.
---

Doesn't the dark and depth effect of a charcoal sketch look bright and beautiful? Well, Artfina presents multiple ranges of Charcoal Sketches that can be a brilliant piece to gift the person you care about the most. The personalized charcoal portrait gifts are made with charcoal pencils, mechanical graphite pencils, and compressed charcoal sticks to bring out the depth with fine detailing and create realism in the sketch.
Also, our artisans better know where to put perfect highlights to give the painting a more realistic approach. That's why we use the mono Tombow eraser (3.0) for better effects. Additionally, the use of crease-free Brustro heavyweight drawing paper (200 GSM) facilitates a smooth surface for bringing out a prominent handmade sketch with more depth.
An application of fixative spray at the end makes it smudge-proof so that the carbon gets locked onto the paper for a lifetime.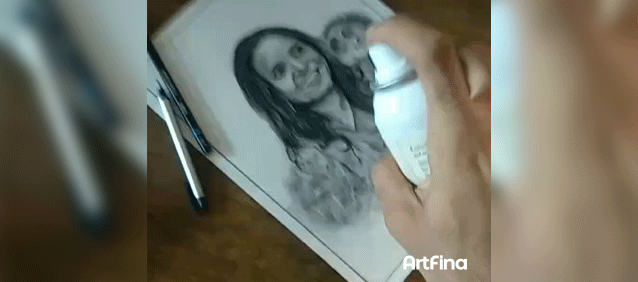 Available in both simple and designer frames, these Charcoal Sketches cost between Rs. 1300-2699, which are delivered to your doorstep with free shipping and facilitates easy cash on delivery option.
---

It is undoubtedly going to look much unique if the sketches and portraits meet color. Artfina offers plenty of color sketches for you at the most affordable price range of Rs. 1499- 2699. You can easily place an order for our Color Sketches while availing of the cash on delivery option. We use high-quality tools like Prismacolor pencils and Camel soft pastels to bring out a premium quality artwork.
Our expert artist team focuses on every minute detail of the sketch to recreate your photo on an A3, A4, or A5 paper. We aim never to disappoint you, instead, impress you. And that's what keeps us going with providing you beautifully drawn color pencil sketch personalized gifts. The use of Brustro heavyweight drawing paper (200 GSM) makes the piece look more valuable and creates a beautiful texture of the art.
You can check out Instagram for latest offers and coupons
Final Thoughts
Why look for standard-quality regular gifts every time when you can make it more unique with our handmade portrait sketches? We comprehend that it is not always possible for you to create handmade gifts on your own due to your tight and busy schedule and lack of proper tools. But your loved ones must not be deprived of the special feelings from a handmade gift. Choosing Artfina is going to give you the best user experience with a beautiful range of handmade gifts.